Dr. Adolphus Clarence Lacey
2016 Reasons to Believe Alumni Honor Roll
Role models who give us Reasons to Believe in the power of education
Dr. Adolphus Clarence Lacey
Wyandotte High School, 1988
Other Kansas City, Kansas Public Schools Attended: Whittier Elementary, Central Middle
Sometimes, even when we think we know the direction we are heading, life has different plans for us. Adolphus Lacey wanted to be an ambassador when he grew up, but when he received the call to ministry, he says, God asked him to be an ambassador for Him.
Answering that call has led him into pastoral ministry in the church. Currently, he is the senior pastor at Bethany Baptist Church in Brooklyn, New York, where he ministers to a flock of more than 1,000 parishioners. His ministry has led him through many doors, including the doors of Congress, where he had the opportunity to give the opening prayer before the House of Representatives.
Lacey says that his favorite part about the ministry is those times when he realizes that his work has had an immediate and significant impact upon a member of his congregation. Sometimes, he says, he will deliver a sermon that he thinks will impact his congregation in one particular way, and a church member will come up afterwards, and share a story about how the sermon impacted them which he had never considered.
His life growing up wasn't always easy, Lacey says, and he faced many challenges. With an absent father and mother who struggled with medical problems, his grandparents had to step up and became his "village." He was the first person in his family to graduate. He was pushed and encouraged, and Lacey believes that people need both. He likens it to a plane with two wings: Challenge and Encouragement. Which one would you want to be without? He needed both, he says, and so do our students.
Lacey says that his greatest accomplishment was earning his Ph.D., something he didn't initially believe he would be able to accomplish. Experience has taught him that you don't have be the brightest person in the room; you just have to be willing to persevere. For him, that meant studying harder, and being willing to ask for help from others when he needed it.
His advice to students? "Don't be afraid to want something. When you want something, you do what is necessary to attract it. "
Nancy Hale
2016 Reasons to Believe Alumni Honor Roll
Role models who give us Reasons to Believe in the power of education
Nancy Hale
Wyandotte High School, 1978
Other Kansas City, Kansas Public Schools Attended: Mark Twain Elementary, Central Junior High

Some people's life journey takes them across the seas and around the world. For Nancy Hale, that journey has brought her right back where she began, to working with kids in the district she grew up in, the Kansas City, Kansas Public Schools.
Hale knew early on that she wanted to be a teacher. Her 5th grade teacher at Mark Twain, Ms. Jones, whom she remembers as a fabulous teacher and mentor, inspired both her and her twin sister Janet to become teachers.
Hale was an athlete growing up, playing basketball and running track at Wyandotte. Since she returned to Kansas City, Kansas, in addition to teaching physical education, she has served as a coach for basketball, volleyball, drill team and track. She believes that coaching is an excellent way to connect with troubled kids. Currently, she serves as the assistant principal at Arrowhead Middle School.
As an administrator, she puts a strong emphasis on building relations with her students and their parents. She works to support her teachers in getting to know their students, to support them, and to teach them the skills they need to be successful.
Hale feels her greatest accomplishment is making a difference with kids who really have it rough. She has spent a lot of time with kids who have been through really hard times, lost people people close to them, or are growing up in bad situations. She works to let them know how much people care about them, and that she cares about them. She believes that if you can make a difference in a kid's life every day, that is the best thing you can do.
Hale's impact on the Kansas City, Kansas Public Schools is evidenced by the many people who wrote letters of support for her nomination, including parents, colleagues and administrators. One parent wrote: "What she has is a special connection with kids that crosses all ethnicities, socioeconomics, genders, sexual orientations, races and ages."
What advice does she give her students? "Be sure you hang around good people, people who are going to be positive with you, keep you on the right road." And for adults: "If you know kids, they will come and talk to you about the most serious thing in their life, and they'll want you to come help them."
Timothy L. Dupree
2016 Reasons to Believe Alumni Honor Roll
Role models who give us Reasons to Believe in the power of education
Timothy L. Dupree
Wyandotte High School, 1994
Other Kansas City, Kansas Public Schools Attended: Vance Elementary, Northwest Middle

Some people's lives follow a clear and well thought-through plan. Others find that their life unfolds in ways that they never expected. For Timothy Dupree, while he might never have imagined as a kid growing up in Kansas City, Kansas that he would become a district court judge, he believes he is exactly where he was meant to be.
Dupree readily admits that he didn't always take his education that seriously. Still, there were adults at Wyandotte who supported him and looked out for him, including Rich and Susan Enloe and Robert Brown, his wrestling coach. However, as a "C" student without a lot of drive or direction, there were people in his life who didn't believe he would succeed, and in his first try at community college, he proved them right.
Back in KCK, he worked at a job where he didn't see a path forward, and he felt stuck. Realizing that others around him, who had been in that job for many years, also felt trapped, he decided that he was not going to allow that to become his story. He decided to give college a try again, this time believing that he could be successful. He enrolled in community college, becoming the first one in his family to earn a degree. From there, he enrolled at the University of Kansas, where he earned his bachelor's degree.
On a lark, he walked into the Law School on campus, asked how to apply to law school, and decided he wanted to become a lawyer. He took the LSAT, applied to law school, and was accepted. After graduation, he worked as a prosecutor in Lyon County, before moving back to KCK to start his own practice. In 2014, he won election to the district court.
As a judge, Dupree enjoys helping people, and trying to make sure that everyone is treated fairly. When he is on the bench, he tries to inspire people, to provide recommendations and encouragement, remembering that sometimes people need an encouraging word.
Dupree's advice for students? "Go after what you want. You can achieve what ever you put your heart to, what ever you truly believe and work for. Hope, believe and act. If you can hope for it, believe in it and act on it, you can achieve it."
Tyrone A. Garner
2016 Reasons to Believe Alumni Honor Roll
Role models who give us Reasons to Believe in the power of education
Tyrone A. Garner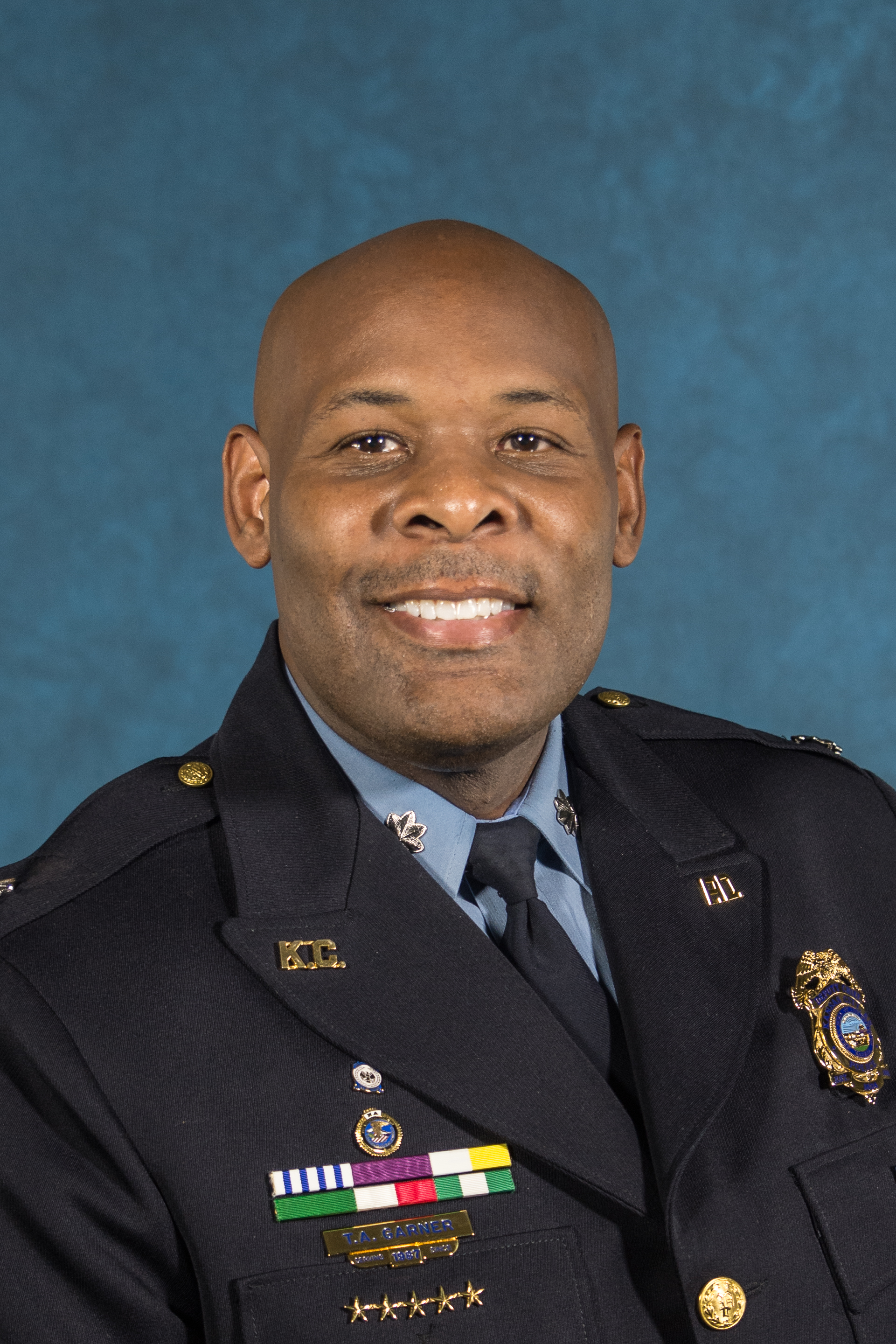 Wyandotte High School, 1987
While some people have spent their entire lives in Wyandotte County, Tyrone Garner is a transplant, having spent the early part of his life in San Jose, California. Still, since his arrival, he has made himself a part of the community, and it has become his home. At Wyandotte High School he got involved in debate, and learned to understand and deal with "real world" issues that affect every-day people. He also learned to work with others, to collaborate with the team and with his partner, and to be able to address issues and make a compelling and convincing argument.
Garner has spent his entire professional career with the Kansas City, Kansas Police Department. After a stint in the United States Army, Garner joined the police department as a patrol officer. Since then, he has risen steadily through the ranks, becoming a detective, working in internal affairs, and then becoming a captain, major, interim assistant chief and now deputy chief.
The favorite part of his job as a police officer is being able to help others, and being able to provide resources to areas that need them. He also spends a lot of time mentoring kids, and speaking to organizations in the community. He says his greatest accomplishment is knowing that he's helped someone, and that he's worked in the field for something greater than himself.
His advice for today's students: "Take away what worked for me: Faith, family, education. The first step to hope, the second step to opportunity, and the final step to an improved destiny starts with education. Work hard. Work even harder. Don't let anybody steal your dreams. Believe in yourself; believe in what you are capable of doing, and know that with God, all things are possible."
"As long as you do right, you can't do wrong. Do the right thing, and do as much for other people as possible. When you get to where you feel you want to be, always reach down and pull somebody up. Never forget where you come from. If you have an opportunity to help, or plant seeds of hope, or opportunity, or support of someone else: Do that!"
Jeanette Pitts, MD
2016 Reasons to Believe Alumni Honor Roll
Role models who give us Reasons to Believe in the power of education
Jeanette Pitts, MD
Washington High School, 1980
Other Kansas City, Kansas Public Schools Attended: Hawthorne Elementary, Northwest Junior High

Some people follow the crowd, while others dance to the beat of their own drum. Dr. Jeanette Pitts has learned to trust herself, and to allow her internal compass to direct her thoughts, feelings and actions. From her decision to attend Stanford University, rather than an Ivy League college, to her decision to take a mid-career break to study a foreign language and culture abroad, Dr. Pitts has charted her own course, and blazed her own path.
As a young woman attending Northeast Junior High School, she got involved in a health careers club sponsored by the Kaw Valley Medical Society. Through this program, she received tutoring, attended summer classes, and was paired with a local dermatologist, Dr. Bertram Caruthers, Jr. It was through these experiences that her natural abilities in the sciences turned her towards medicine.
Her academic journey took her to Stanford University where, during her senior year, she decided to apply for a Rhodes Scholarship. One of only 32 people selected in the country, and the first black Rhodes Scholar from Kansas, this prestigious scholarship allowed her to study at Oxford University in England. She was also selected as a member of the Phi Beta Kappa honor society, a recognition she treasures even more, because it recognizes how hard she worked in school, and how much she accomplished.
Dr. Pitts is a fellowship-trained skin cancer surgeon, and a board-certified dermatologist. Among her leadership activities, she has served as an officer on the board of directors of the Arizona Dermatology and Dermatologic Surgery Society, and as dermatology section chair of the National Medical Association.
In addition to her career accomplishments, Dr. Pitts has a life-long passion for the humanities, inspired by Ms. Showalter's class at Washington.
Her advice for students today: "Become well-rounded, have an open mind, and don't let others set limitations for you. You cannot build your life based on someone else's vision." Role models are just that, she says, "models" and not "blueprints". They serve as guides and examples, but you have to learn to look beyond them. "I was the only black woman in my specialty, so if I had waited for someone else to lead the way, I never would have achieved what I have."