2003 Reasons to Believe Alumni Honor Roll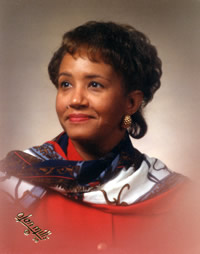 Wyandotte High School – Class of 1969
Making up a third of the African-American women who manage affairs of cities in America with over 150,000 residents, Anita Favors has obviously found a measure of success in her life. As the City Manager of Tallahassee, Fla., Anita manages 2,896 city employees, an operating budget of $465.5 million dollars, a five-year capital improvement plan of $701.6 million dollars, and has direct supervision over such departments as: parks and recreation, gas utilities, TalTran, and energy policy and evaluation.
Anita began on this path of achievement quite early in life with the help of a tremendous support group that included her immediate family, grandparents, church, and neighbors. Surrounded by encouragement, she had Reasons to Believe her future was bright. When she graduated from Wyandotte High School in 1969, where she was homecoming princess and the first African-American spring queen, she was only beginning to show what she was capable of.
Anita went on to earn a bachelor's degree in sociology at Park College and a master's degree in personnel administration from Central Michigan University in 1980. Upon her return to Kansas City, she taught courses part-time in management, government, and sociology at Kansas City, Kansas Community College from 1980 to 1986.
From 1986 to 1990, Anita was the assistant city administrator in Kansas City, Kan., where she was responsible for the oversight of city operation in areas including: public works, personnel, finance, and human resources. It was from this position she was hired as senior assistant city manager in Tallahassee, a position she held until being appointed city manager April 1, 1997.
Through all of her success, which includes recently receiving the "Technology Leadership Award," a prestigious, national award, from Public Technology, Inc., Anita believes her education was crucial. Her education helped her think about what she wanted to be, taught her to think critically, and resolve conflicts.
Anita has three children: Jocelyn, 29; Wayman, Jr., 25; and Khalil, 23.