2018 Reasons to Believe Alumni Honor Roll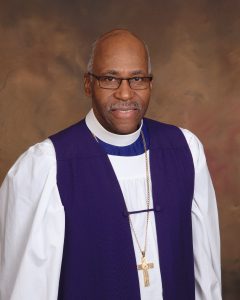 Sumner High School, 1965
Other Kansas City, Kansas Public Schools attended:??Douglass Elementary School and Northeast Junior High School
Bishop Ervin Sims, Jr. has spent his life improving the lives of others in this community and around the world.
He has served as the pastor of Mt. Carmel Church of God in Christ (COGIC) for 38 years. "My role is to lead a congregation into a greater, stronger, walk with God," said Bishop Sims. His church is among the most active congregations in the community with programming to rejuvenate and revitalize the northeast corridor of Wyandotte County for the residents living there.
Bishop Sims founded the Mt. Carmel Redevelopment Corporation (MCRC) in 1994 as a catalyst for change in the inner city of Kansas City, Kansas. MCRC's master plan calls for the construction of 48 single family homes for low-to-moderate income families. To-date, 16 of these homes have been constructed and are occupied. The plan includes Mt. Carmel Place, a $6.1 million affordable senior housing facility with 61 units for low- to-moderate income level seniors that was completed in 2001. In partnership with the Boy and Girls Club, MCRC built an $8.4 million community center that was completed in 2006. Additionally, MCRC manages the Willa Gill Center that provides a free meal year-round to those in need. The corporation also owns and operates eight transitional housing units and provides a broad range of social service programming in the community.
Bishop Sims' work with the COGIC includes responsibilities for the growth of 45 churches in Ghana. He has made more than 24 mission trips to Haiti, Philippines, Dominican Republic, England, Wales, Ghana and Togo. "You can see 21st century building underway and the worst poverty conditions, too," he said. Whenever he sees this, he is reminded of the Bible verse, "to whom much is given, much is required."
"We must help one another," he said.
He is also a licensed professional engineer who worked for Owens Corning Fiberglass and Monsanto, where he traveled across the country. After seven years, he returned to Kansas City, Kansas, and was hired to manage the Water Department for the Board of Public Utilities for 18 years until his retirement.
Bishop Sims has served on several boards including the United Way of Wyandotte County, the Kansas City, Kansas Chamber of Commerce, the American Water Works Association, and as board treasurer for Bread for the World, based in Washington, D.C.
He has been recognized as one of the COGIC's 100 Influential Pastors and is a member of the Kansas City, Kansas Community College Hall of Fame for his contributions to education in the community.
He earned a bachelor's degree in mechanical engineering from the University of Kansas, Lawrence in 1970.
Bishop Sims was born in Kansas City, Kansas and has lived in the community for most of his life. He has been married to the "apple of his eye," Mary, for 48 years. They have three children and seven grandchildren.