2012 Reasons to Believe Alumni Honor Roll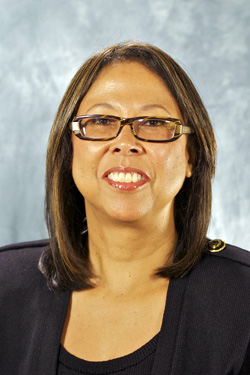 F.L. Schlagle High School, 1974
Valerie Chow believes that learning is a life-long process, and 27 years into her career, she continues to learn and find new ways to challenge herself.
Chow is chair of the department of anesthesiology at Truman Medical Center Lakewood. Through her work, she is the gatekeeper for patients having surgery, seeing them through from beginning to end. While she thrives on her specialty, she gets just as much satisfaction out of meeting her patients and learning about their lives.
Her dedication to education keeps her vested in future students. Since 2008, she has served as an adjunct professor at the University of Missouri-Kansas City School of Dentistry.
Chow knew that the field of medicine was her calling after she took a science course on the human body in the 7th grade. Her mom, a medical technologist, also fed her passion for science by exposing her to the field and helping her with science projects.
Originally Chow had planned to focus on the area of pediatrics, but once she was exposed to the operating room, she knew it was where she wanted to be so she chose anesthesiology. Two years ago she completed a fellowship in integrative medicine where she studied intensively about the affect of nutrition on health and disease and natural remedies. She hopes to do this in the near future.
Music has always been an important part of her life. She took piano lessons while growing up and learned the violin in the fourth grade. These experiences stayed with her throughout her life. While serving on the board of the Youth Symphony, she saw that students from the Kansas City, Kansas Public Schools (KCKPS) were missing from the mix. So she helped establish the Musical Bridges Advisory Board. As chair, she has spearheaded raising more than $100,000 to fund weekly lessons for KCKPS students who otherwise could not afford them. Her work gives these students reasons to believe in themselves.
Chow serves on the board of a number of charitable organizations including Truman Medical Center Charitable Foundation, Kansas City Youth Symphony and the Rose Brooks Center.