2008 Reasons to Believe Alumni Honor Roll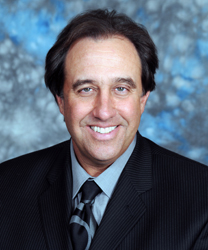 Washington High School, 1973
Gordon Docking is a familiar face and voice around Kansas City. The professional broadcaster spent 12 years as a sports anchor and reporter for WDAF TV, and 15 seasons as host of the Chiefs Radio Network postgame show.
Growing up in the Kansas City, Kansas Public Schools, Docking was always intrigued by the field of broadcast journalism. But his passion for sports was strong as well. He spent his high school years as a member of the swim team and is grateful for the many lessons he learned.
"I'm a big believer that athletics is part of a well-rounded education," he said. "There are a lot of things you learn from sports that you won't learn in the classroom like teamwork, dedication and self-motivation."
The mixture of sports and broadcasting set him up for his future. His swimming coach, Jim Askins, gave him reasons to believe in himself and instilled in him the motivation to succeed. His greatest challenge in high school was being a part of the split session schedule. He attended classes in the morning, but had to return to school every evening for swim practice.
In 1992, Docking moved into the healthcare arena, taking a position as manager of marketing and public relations at St. Joseph Medical Center. Today, he has 16 years of healthcare management experience under his belt, including serving as CEO at both St. Mary's Medical Center of Blue Springs and St. Joseph Medical Center.
Docking attended the University of Kansas on a swimming scholarship, and graduated with honors with a degree in broadcasting. He earned his MBA from Webster University in 1998.
Docking coaches his son in swimming and other Special Olympic Sports. He is chairman of the board and co-founder of First Downs for Down Syndrome. In 2006, he and his wife, Susan, received the Ad Astra Award from Johnson County Developmental Supports, for their efforts in improving the lives of people with Down Syndrome and other special needs.