2012 Reasons to Believe Alumni Honor Roll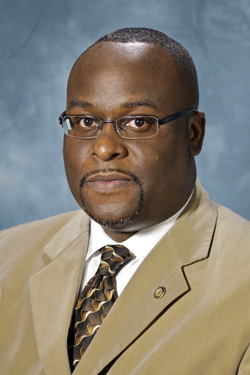 F.L. Schlagle High School, 1993
In high school he received the "most spirited" award and was named "most likely to succeed." Today, Jarius Jones continues to exemplify both of these qualities. His positive attitude and his passion for his work and his community shine through every day.
Jones has had a lifelong love affair with education and he credits the Kansas City, Kansas Public Schools (KCKPS) for that. His face lights up when he talks about the positive and impactful experiences he had growing up in the district ??? from being selected to attend music camp in middle school to attending Boys State in high school. He still remembers each one of his teachers. The unending support and high standards set by his teachers and his parents gave Jones reasons to believe in himself.
He got his first taste of real teaching at the age of 15 when he tutored adults who were preparing to take the GED. He especially loved proving people wrong when they said they weren't good at math. That experience showed him that he had a talent for teaching, especially in the area of math.
Jones was a member of the original cohort of the Kansas City Teaching Fellows, and began his career in the district as a math teacher at Wyandotte High School in 2001. He co-founded the district's successful Math Relays event in 2005. Today, he is a teacher leader at Schlagle High School. He especially loves teaching at his alma mater, which carries fond memories for him.
His civic-mindedness and outstanding leadership abilities are visible by the number of community organizations he has been involved with over the years. He serves on the board of Smile for a Lifetime, Kansas National Education Association Wyandotte United Uniserv, and has served on several committees for the Kansas State Department of Education.
Jones is a 1999 graduate of the University of Kansas and a 2003 graduate of Pittsburg State University.