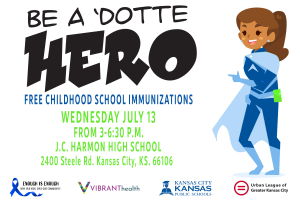 Are you preparing for the 2022-2023 school year? Need to catch up on immunizations before the school year begins? Join Kansas City, Kansas Public Schools, and Vibrant Health for the upcoming: Be a 'Dotte Hero. Unlike those from the past, this event will have childhood school immunization opportunities and the COVID-19 vaccine and booster.
Join us at J.C. Harmon High School on Wednesday, July 13th for music, community partners, food trucks, ice cream, live raffles, and more. This free clinic will run from 3-6:30 P.M.
Those who receive their vaccine or immunization shots will get a free meal and be entered into a raffle. (First 150 People).
If you are looking to stay up to date with your COVID-19 vaccine, the Pfizer vaccines 1st or 2nd dose and boosters will be offered for those ages 5 and up. In order to receive a booster for ages 5-11, 5 months must have passed since your second dose of the vaccine. Please bring your vaccine cards. 
Other vaccines that will be offered: (Childhood immunizations for kids ages 4-16):
4 years
Dtap and IPV=Kinrix
MMR and Varivax= Proquad
9 years
11 years
16 years
MCV4 (Meningitis)
Meningitis B (this is an optional vaccine)
Catch Up Vaccines (dependent on need and will be determined at the event):
Hep A
Hep B
Polio
TD
MMR
Varicella