Aaron Urquidi-Monge
Kansas City Kansas Early Childhood Center
Nominated by: Karen Ettinger, Teacher
Aaron has not missed a single zoom circle time and has been on Seesaw completing activities as well. He is always smiling and excited to join our circles and engages in our activities with enthusiasm. He started school last year and has made incredible progress. He is using more words and is even spontaneously using full sentences. Aaron is now counting, noticing the letter his name starts with and engaging with both teachers and others during our zoom meetings.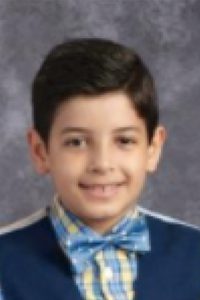 Khaled Obaidat
T.A. Edison Elementary School
Nominated by: Avaree Norman, Music Teacher
Khaled has not let remote learning change his determination and personality. He has always been very kind, considerate and outgoing, and those traits have become even more obvious in our current learning environment. He always comes to Music on time and with a huge smile to greet everyone. He often leaves encouraging messages to his classmates on SeeSaw. Khaled is a determined young musician who always wants to expand his knowledge, and he sees mistakes as opportunities to learn more.
Kaelyn Sandoval
Central Middle School
Nominated by: Juliann Brown, Teacher
Kaelyn takes a strong initiative in helping other students who are struggling in class. She participates in class to the degree in helping to keep the rest of the class on task. She has the confidence in letting the teacher know if they have made a mistake and does it with tactfulness. She is usually the first student in class to respond to questions. She is very helpful to her teacher and represents the PRIDE traits well.
Dulce Rodriguez
Sumner Academy of Arts and Science
Nominated by: Daniel Kirk, Director of Bands
Dulce cares about everything – her classmates, her teachers, her LEARNING, and her community. She is constantly asking great questions in classes, which inspires and brings along other students, and always does her best. Not only is she engaged in class, she goes above and beyond to seek enrichment and academic betterment – she proactively requested information for a College Prep Music program offered through UMKC and plans to apply and attend these extracurricular sessions on Saturdays! On top of all of this, she is positive, kind, and caring. We are all balancing a lot, but Dulce does it in a way that models the very best for her school community.